President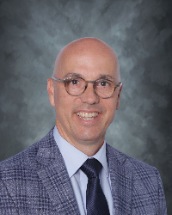 Denver Daniel
President of Open Door Christian Schools
Denver Daniel is a career educator who has served as the President of Open Door Christian Schools since 2013. He is passionate about creating a school culture where Christ is known across every touchpoint of a student's experience. He serves as a consultant to numerous Christian schools and has served on the ACSI Accreditation Commission, where he was the Chairperson of the Midwest: East Region. Denver holds a bachelor's degree in elementary education from Cleveland State University and two master's degrees: one in educational administration from Cleveland State University and the other in biblical studies from Liberty University. He holds a Life Achievement Award from the National Parent Teachers Association given for his advocacy of children and most recently was recognized as a Colson Fellow by the Colson Institute. Presently, he is a doctoral candidate in the field of Christian Education and Discipleship from Southern Baptist Theological Seminary.
Before ODCS, Denver worked for eighteen years in public education as a teacher, principal, and system leader. During that time, Denver also served as a bi-vocational pastor assisting in the ministry of students and, ultimately, the entire congregation. Of all the blessings and opportunities that the Lord has given, Denver counts none more spectacular than being the husband to his beautiful wife Dawn and father to three incredible children and their spouses. His favorite Bible verse is Philippians 3:8, "Indeed, I count everything as loss because of the surpassing worth of knowing Christ Jesus my Lord. For his sake I have suffered the loss of all things and count them as rubbish, in order that I may gain Christ" (ESV).
Administration
Dawn Daniel
Preschool Operations Manager
Employed Since: 8/1/2006
Mrs. Daniel is the Preschool Operations Manager and prekindergarten teacher at ODCS. She is also the Varisity and Jr. Varisity Cheerleading Coach. She has been employed here since 2007 and has worked in early childhood education since 2000. Mrs. Daniel has an Associate Degree in Early Childhood Education from Lorain County Community College. She has been married to Denver since 1994. The Daniels have three children who have all graduated from ODCS. She enjoys watching her children compete in various sports, going to the theater, and spending time with her family. Her favorite Bible passage is Romans 8:35-39.
Kevan Ford
Director of Admissions & Communication
Employed Since: 7/10/2017
Mr. Ford is the Director of Admissions and Communication at ODCS since the 2017/2018 school year. Prior to coming to ODCS, he worked as the Director of Admissions in the college sector for the many years. He has a bachelor's degree in Business Management and an MBA in Marketing. Mr. Ford has been married to Tasha since 1999. He and his wife have two children who both attended ODCS. He enjoys sports and traveling with his family. His favorite Bible verse is John 1:1.
Angie Lowe
Lower School Principal
Employed Since: 7/1/2010
Mrs. Lowe is the Lower School (preschool-4) Principal at ODCS. She has been employed here since 2010. Before working at ODCS, she taught kindergarten for nine years. She has a Bachelor of Education with a minor in psychology from John Carroll University and a Master of Education in curriculum and instruction with a concentration in early childhood education from Cleveland State University. At her church, she has worked in the nursery and toddler rooms, on the Barnabas Team to encourage teachers, and on the Assimilation Team to support and welcome visitors. Mrs. Lowe has been married to Ray since 1994, and they have six children, four are graduates of ODCS and the other two are currently enrolled at ODCS. She enjoys reading, observing nature, visiting the mountains, and attending all of her children's various sporting, theater, and musical events. Her favorite Bible verse is Philippians 4:13.
Jeremy Grove
Upper School Principal
Employed Since: 7/1/2021
Mr. Grove started as the Upper School Principal at ODCS in July of 2021. Before, ODCS, he taught Agriscience Education and has been a District Administrator in College & Career Readiness. He has a Bachelor of Science in Agricultural & Extension Education from The Ohio State University as well as two Masters' from Grand Canyon University. The Master's degrees are as follows: Arts in Curriculum and Instruction and the second in Education Leadership. Mr. Grove had been married to his wife, Heather, since 2014 and they both attend Church of the Open Door in Elyria with their three sons. He enjoys gardening, woodworking, ultimate frisbee, and Nerf Wars. His favorite verses are Proverbs 3:5-6.
Susan Schrodt
Director of Finance
Employed Since: 9/16/2013
Mrs. Schrodt is the Director of Finance at ODCS and has been employed with ODCS since 2013. Previously, she had twenty-one years of experience as a Certified Public Accountant for public accounting firms, specializing in nonprofit organizations. Mrs. Schrodt served on the ODCS Board of Education from 2006 through 2013. She has a Bachelor of Arts with a double major in accounting and equestrian science from William Woods University. Mrs. Schrodt has two daughters, of whom both are graduates of ODCS. She enjoys reading, horses, being at the beach and spending time with her family, including her 4-year-old grandson, who currently attends ODCS. Two of her favorite Bible verses are Galatians 2:20 and John 1:1.